About
The Fletcher School enlisted the services of The Education Group, based in Nashville, Tennessee to guide the search for the next Head of School. You can read more about The Education Group and their methodology by clicking here.
Timeline
September 1 - Parent and Faculty/Staff Focus Groups with Head of School Search Committee and The Education Group at The Fletcher School
September 9 - Zoom Parent and Faculty/Staff Focus Groups with Head of School Search Committee and The Education Group
Messages to the Community
August 23, 2021
Dear Fletcher School Community,
I hope you had a wonderful summer and that you share our excitement as we begin the school year with our new interim head of school, Arch McIntosh, who has spent the past few months preparing for the year ahead.
I also want to give you an update on where things stand with our search for a new head of school.
In June, I selected the co-chairs for our search committee – board members Lesley Shull, business functional consultant who leads procure-to-pay controls in supply chain management at Wells Fargo, and Jamal Dawkins, vice president and assistant general counsel at Charter Communications.
I chose Lesley and Jamal because of their impressive personal qualities, the trust their fellow board members have in them, their willingness to invest the time needed throughout the process – and because their children attend The Fletcher School. Lesley's children are in 5th and 8th grade. Jamal's child is in 5th grade.
In addition to the three of us, we added five more board members to the search committee – Ann Caulkins, William Hadley, Barrett Kollme, Margaret Rainey and Michael Smith. They are talented, diverse, and passionate about the future of our school's leadership.
Elizabeth Ashe, admissions assistant and member of the school's staff since 2012, is chairing the faculty subcommittee and will participate in key phases of the search process. In addition, Michael Kahn, current parent and board of trustees member, is putting together a group of former school leaders, including staff and trustees, to offer insight to our consultants about their experiences at The Fletcher School.
The committee's first step was to select a search firm, and after a two-month review of several nationally recognized educational firms this summer, we selected The Education Group (TEG), based in Nashville. We were impressed by TEG's experience in executive searches, their collective understanding of LD independent schools, and their commitment to helping us create a collaborative and inclusive search process. The team from TEG – Dennis Campbell and Allison Lorimer – will assist the search committee in selecting The Fletcher School's next head of school.
Throughout this process, Lesley and Jamal will provide periodic progress reports on a dedicated search page that will go live on the school website in early September. If you have any questions about the search, feel free to contact us at searchcommittee@thefletcherschool.org.
As The Fletcher School begins its thirty-ninth year in service to our exceptional students, we are optimistic about all the future holds for our school. We know this search represents a pivotal step on that journey and we encourage you to follow our progress on The Fletcher School website.
With best wishes and gratitude for your continued support,
John D. Porter, III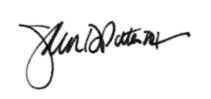 Chair, Board of Trustees