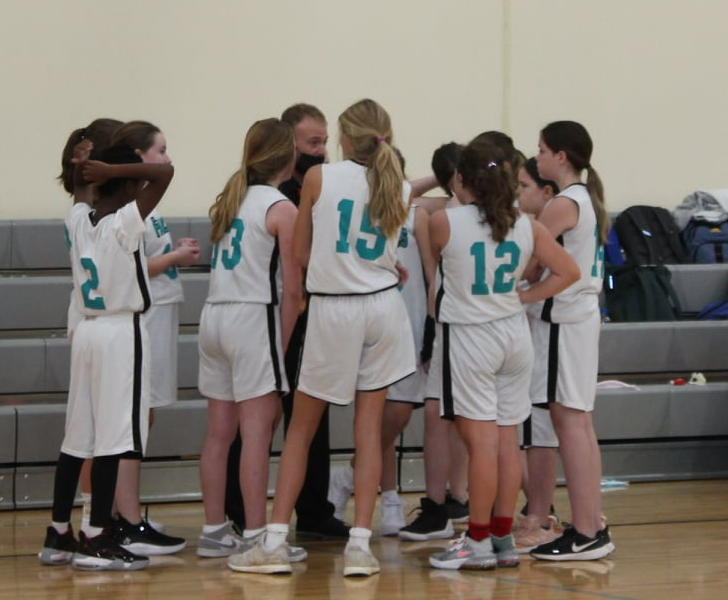 2021-2022 Basketball
Middle School Girls Basketball Schedule
Tuesday, November 9 Northpoint Christian Academy - Home at 5:00 PM Address - 8500 Sardis Rd, Charlotte, NC 28270
Thursday, November 11 Jackson Day School - Away at 4:00 PM Address -1209 Little Rock Rd, Charlotte, NC
Thursday, November 18 Saint Anne Catholic School - Home at 4:15 AM Address -8500 Sardis Rd, Charlotte, NC 28270
Friday, December 10 Carolina Christian School - Away at 4:00 PM Address -406 Renee Ford Rd, Locust, NC
Tuesday, January 4 Palisades Episcopal School - Home at 4:15 PM Address -8500 Sardis Road, Charlotte, NC
Friday, January 7 Jackson Day School - Home at 4:00 PM Address -8500 Sardis Road, Charlotte, NC 28270
Tuesday, January 11 Saint Anne Catholic School - Home at 4:00 PM Address -8500 Sardis Road, Charlotte, NC 28270
Wednesday, January 26 Liberty Preparatory Christian Academy - Away at 5:00 PM Address -229 Midway Lake Rd. Mooresville, NC
Monday, January 31 CGAA Tournament at Highest Seed at TBD 4:15 PMat Highest Seed
Tuesday, February 1 CGAA Tournament at Liberty Prep - Away at 4:15 PM Address -229 Midway Lake Rd. Mooresville, NC
Thursday, February 3 CGAA Tournament Finals at Liberty Prep - Away at 5:30 PM Address -229 Midway Lake Rd. Mooresville, NC
Middle School Boys Basketball Schedule
Monday, November 8, 2021 Providence Classical School - Home at 4:00 PM Address -8500 Sardis Road, Charlotte NC
Tuesday, November 9 Northpoint Christian Academy - Home at 6:00 PM Address -8500 Sardis Road, Charlotte NC
Thursday, November 11 Jackson Day School - Away at 5:00 PM Address -1209 Little Rock Road, Charlotte, NC
Thursday, November 18 Saint Annes Catholic School - Home at 5:15 PM Address -8500 Sardis Road, Charlotte NC
Wednesday, December 1 Walnut Grove Christian School - Home at 4:30 PM Address -8500 Sardis Road, Charlotte NC
Thursday, December 2 Saint Michael's Catholic School - Home at 4:00 PM Address -8500 Sardis Road, Charlotte NC
Friday, December 3 Lee Park Preparatory School - Away at 5:00 PM Address -2491 Morgan Mill Rd Monroe, NC
Thursday, December 9 Providence Classical School - Away at 4:30 PM Address -481 Hood Center Dr. Rock Hill
Friday, December 10 Carolina Christian School - Away at 5:15 PM Address -406 Renee Ford Rd, Locust, NC
Tuesday, December 14 John Crosland School - Home at 4:30 PM Address -8500 Sardis Road, Charlotte, NC
Tuesday, January 4 Palisades Episcopal School - Home at 5:15 PM Address -8500 Sardis Road, Charlotte, NC
Tuesday, January 11Saint Annes Catholic School - Home at 5:00 PM Address -8500 Sardis Road, Charlotte, NC
Thursday, January 20 Lee Park Preparatory School - Home at 5:00 PM Address -8500 Sardis Road, Charlotte, NC
Monday, January 24 Saint Michael's Catholic School - Home at 4:15 PM Address -8500 Sardis Road, Charlotte, NC
Tuesday, January 25 Back Creek Christian Academy - Home at 4:30 PM Address -8500 Sardis Road, Charlotte, NC
Wednesday, January 26 Liberty Prep Christian Academy - Away at 6:30 PM Address -229 Midway lake Rd, Mooresville, NC
Monday, January 31 CGAA Tournament TBD at 5:15 PM TBD
Tuesday, February 1 CGAA Tournament at Liberty Prep - Away at 5:15 PM Address -229 Midway Lake Rd. Mooresville, NC
Thursday, February 3 CGAA Tournament Finals at Liberty Prep - Away at 7:00 PM Address -229 Midway Lake Rd. Mooresville, NC
Junior Boys Basketball Schedule
Thursday, December 2 Weddington Christian Academy - Away at 4:00 PM Address -13901 Providence Rd., Weddington, NC
Friday, December 3 Lee Park Prep Academy - Away at 4:00 PM Address -2491 Morgan Mill Rd Monroe, NC
Monday, December 13 Northpoint Christian Academy - Home at 4:30 PM Address -8500 Sardis Road, Charlotte, NC
Thursday, January 6 Liberty Prep Christian Academy - Home at 3:30 PM Address -8500 Sardis Road, Charlotte, NC
Thursday, January 13 Northpoint Christian Academy - Home at 4:00 PM Address -8500 Sardis Road, Charlotte, NC
Tuesday, January 18 Weddington Christian Academy - Home at 4:00 PM Address -8500 Sardis Road, Charlotte, NC
Thursday, January 2 0Lee Park Prep Academy - Home at 4:00 PM Address -8500 Sardis Road, Charlotte, NC
Wednesday, January 26 Liberty Prep Christian Academy - Away at 4:00 PM Address -229 Midway Lake Road, Mooresville, NC
Friday, February 4 Conference Tournament 1v4 - Away at 4:00 PM1 Address -525 Crane Road, Waxhaw, NC
Friday, February 4 Conference Tournament 2v3 - Away at 5:00 PM1 Address -525 Crane Road, Waxhaw, NC
Friday, February 4 Conference Finals - Away at 6:00 PM Address -525 Crane Road, Waxhaw, NC
Junior Varsity Boys Schedule
Thursday, November 11 Jackson Day School - Away at 6:30 PM Address -1209 Little Rock Rd., Charlotte, NC
Friday, January 7 Jackson Day School - Home at 5:00 PM Address -8500 Sardis Rd., Charlotte, NC
Thursday, January 20 Lee Park Preparatory School - Home at 6:15 PM Address - 8500 Sardis Rd., Charlotte, NC
Monday, February 14 CSAA Quarterfinals TBD
Thursday, February 17 CSAA Final Four TBD
Saturday, February 19 CSAA ChampionshipTBD
Varsity Boys Schedule
Tuesday, December 7 Liberty Preparatory Christian Academy - Home at 5:00 PM Address -8500 Sardis Road, Charlotte, NC
Thursday, December 9 Providence Classical School - Away at 6:00 PM Address -481 Hood Center Dr. Rock Hill, SC
Friday, December 10 Carolina Christian School - Away at 6:30 PM Address -406 Renee Ford Rd, Locust, NC
Tuesday, December 14 Hope Academy - Home at 6:00 PM Address -8500 Sardis Road, Charlotte, NC
Thursday, January 6 Walnut Grove Christian School - Away at 4:30 PM Address -865 Promenade Walk, Fort Mill, SC
Friday, January 7 Jackson Day School - Home at 6:30 PM Address -8500 Sardis Road, Charlotte, NC
Tuesday, January 11 Saint Anne Catholic School - Home at 6:30 PM Address -8500 Sardis Road, Charlotte, NC
Thursday, January 13 Northpoint Christian School - Home at 5:30 PM Address -8500 Sardis Road, Charlotte, NC
Tuesday, January 18 Carolina Christian School (Senior Night) - Home at 6:30 PM Address -8500 Sardis Road, Charlotte, NC
Thursday, January 20 Lee Park Preparatory School - Home at 7:30 PM Address -8500 Sardis Road, Charlotte, NC
Tuesday, January 25 Hope Academy - Away at 4:30 PM Address -24 Spring St. SW, Concord, NC
Wednesday, January 26 Liberty Prepartory Christian Academy - Away at 7:30 PM Address -229 Midway Lake Rd., Mooresville, NC
Tuesday, February 8 MAAC Tournament @Highest Seed
Thursday, February 10 TBD MAAC Tournament - Away - Address - 326 Technology Cntr way, Rock Hill, SC
Friday, February 11 TBD MAAC Tournament - Away - Address -326 Technology Cntr way, Rock Hill, SC
Monday February 14 CSAA Qtr Finals TBD
Thursday, February 17 CSAA Final Four TBD
Saturday, February 19 CSAA Championship TBD
Sun

day

Mon

day

Tue

sday

Wed

nesday

Thu

rsday

Fri

day

Sat

urday

SENIOR WALK

May 13, 2022

K-12: Senior Walk 1:00 pm-1:30 pm Senior Walk honors the steps that seniors have taken at The Fletcher School and the next steps they will take in their lives! Senior families welcome!

Spring Parents' Social

May 14, 2022

Saturday, May 14 at 6pm 1541 S. Wendover Rd, Charlotte Meet incoming Head of School, Dr. Tara Terry!

Gr 5 Student Service Leaders Field Trip

May 19, 2022

Grade 5 Student Service Leaders on a field trip to Brighton Gardens 12:30 pm - 2:20 pm All students must bring a mask to wear on-premises at Brighton Gardens

Last Day: LUNCH

May 24, 2022

May 24: Last day that lunch will be served in the cafeteria.

Gr 2-3 Field Trip

May 25, 2022

COLONEL BEATTY PARK and the BOWLERO in Matthews 9:15-2:15

Gr K-8 Closing Ceremonies

May 26, 2022

* K-3 @ 8:20-9:00 am K-3 students dismissed after their ceremony ends * 4-5 @ 9:45–10:30 am 4-5 students dismissed after their ceremony ends * 6-8 @ 11 am-12:00 pm 6-8 students dismi...