2021-2022 Community Programs
Community Programs are designed for parents, professionals, and community members interested in improving the lives and services offered to students with learning differences and ADHD. The courses are designed to provide tools for teaching students with learning differences and ADHD, but are beneficial for all students.
NEW for 2020-2021: The Rankin Institute is currently offering our programs virtually. In an effort to help keep our community safe and socially distanced during this time, we invite you to join us via Zoom for our expert-led seminars. These presentations are open to all, but registration is required. Once you sign up for one of our events, you will receive login information at least a day ahead of the workshop.

Reading Disorder: A Picture's Worth a Billion Words
This online presentation on Reading Disorder will give an overview of the disorder as well as demonstrate proven technologies for helping children with reading disorders. Presenters: Joanie Gerken, Fellow/AOGPE of The Fletcher School.
Wednesday, October 6, 2021, 6:30 p.m. - 8:30 p.m. Cost: $10
REGISTER NOW.
Early Identification of Developing Learning Issues in Preschool
Do you have concerns about your preschool age child's learning? How can you tell if their learning is "normal" for their age or if they are showing early signs of learning difficulties? Join us for a discussion, presented by Terri James, Ph.D., of early identification of learning issues in the preschool age.
Monday, October 18, 2021, 6:30 p.m. - 8:00 p.m. Cost: $10
REGISTER NOW.

Written Expression Disorder: Watch for Sales on Erasers
This online presentation on Written Expression Disorder will give an overview of the disorder as well as address technologies for working with children who are struggling with written expression. Presenter: Hannah Harrison, Ph.D.
Monday, October 25, 2021, 6:30 p.m. - 8:30 p.m. Cost: $10
REGISTER NOW.

ADHD: Follow the Bouncing Ball
This online presentation will discuss the effects of attention deficit disorder and provide suggestions for effectively treating ADHD and managing consequent behavior. Presenter: Lisa Pennington, Ph.D. of Carolina Minds, PLLC.
Tuesday, November 9, 2021, 6:30 p.m. - 8:00 p.m. Cost: $10
REGISTER NOW.
How to Model Executive Functioning Skills for Your Child
Your child may be at a stage where they are not receptive to advice given by parents. Instead of offering explicit strategies, why not switch up the approach? Presented by Lisa Podell of Better Sessions, this workshop will discuss ways parents can model advanced executive functioning skills to help increase their child's healthy behaviors. Note: This workshop provides tools and techniques intended to serve students with learning differences, but can also be utilized in a traditional setting.
Monday, November 15, 2021, 6:30 p.m. - 8:00 p.m. Cost: $10
REGISTER NOW.
---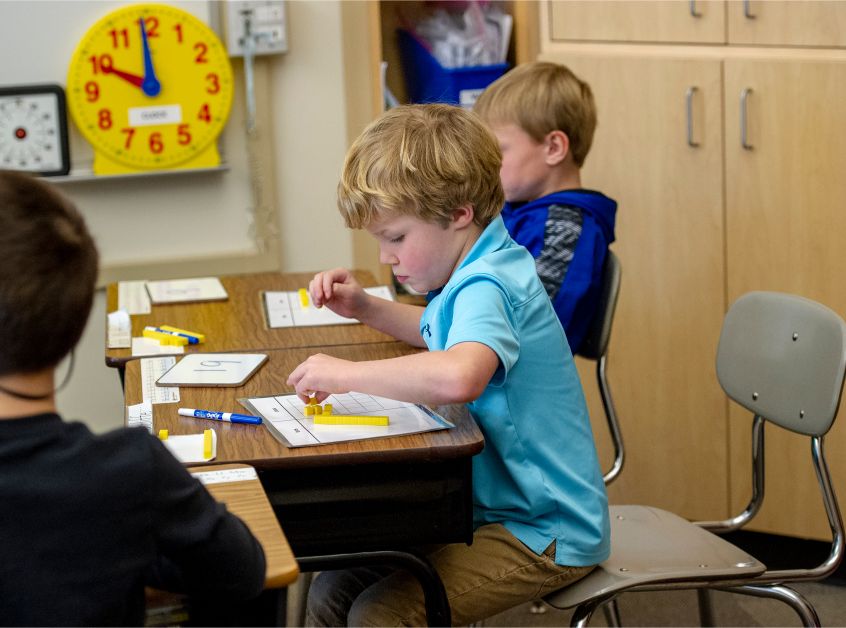 Auditory Processing Disorder: Gimme Just A Little More Time
This workshop will review neuroscience related to language and auditory structures, current assessment protocols for auditory processing, and differential diagnosis of attention, behavior, and learning disorders. Intervention strategies from both an educational and speech and language perspective will be provided. Presenters: Mary "Mo" Froneberger, MAT and Gretchen Hunter, Ph.D. of Child and Family Development and Michelle L. Podboreski, AuD, F-AAA of Novant Health.
Monday, January 10, 2022, 6:30 p.m. - 8:30 p.m. Cost: $10
REGISTER NOW.

Learning Difference Simulations: Walk A Mile In My Shoes
Have you ever wondered what a child with a diagnosed learning disability experiences in the classroom? Do you have a child with a diagnosed learning disability at home, and their sibling(s) just do not understand them? This workshop, presented by the staff of The Fletcher School, is designed to put you in the shoes of a child with LD. Bring your whole family (ages 12+). This session helps promote more understanding, compassion, and discussion within the family.
Wednesday, January 19, 2022, 6:30pm - 8:00pm, Cost $10.
A Mindful Approach to Building and Teaching Resiliency
Cultivating resilience in ourselves and others is a key ingredient for living, leading, and parenting well. Life is hard, and the better we are at recognizing the things that throw us off balance and the ways we respond, the better we are at righting ourselves and moving forward wholeheartedly. This workshop will incorporate research and tools from mindfulness, as well as from Dr. Brene Brown. Presenters: Susan Campbell, Ph.D., Certified Daring Way Facilitator.
Monday, January 31, 2022, 6:30 p.m. - 8:00 p.m. Cost: $10
REGISTER NOW.


What is Orton-Gillingham? Orton-Gillingham Subscriber Course
Presented by Joanie Gerken, Fellow/ AOGPE, this is a three-part course offered to parents and other professionals to familiarize them with the Orton-Gillingham approach to teaching. This course is an excellent introduction for those who are considering further training in the Orton-Gillingham approach.
Various dates, 6:30 p.m. - 8:30 p.m. Cost: $75
REGISTER NOW.

Navigating ADHD: A Parent's Guide to Empowering Kids with ADHD
Learn about the diagnosis of ADHD, inattentive, hyperactive and combined types and how it looks in different children. This workshop will discuss behavioral and developmental stages that are specific to an ADHD child so you know what to expect. Management strategies and medication alternatives will also be presented. Presenters: Michelle Tolison, LPC, RPT and Alyse Bone, LPC, both of Dandelion Family Counseling, PLLC.

Monday, February 28, 2022, 6:30 p.m. - 8:00 p.m. Cost: $10
REGISTER NOW.

Risky Behaviors in Adolescents
This overview presentation will focus on three key areas of concern for adolescents: technology, substance use, and depression/suicide. This workshop will provide information related to historical trends, current incidence, warning signs, and intervention. Presenters: Brandyn Street, PhD and Lindsey Anuzis, LCMHCA of Child and Family Development.
Monday, March 28, 2022, 6:30 p.m. - 8:00 p.m. Cost: $10
REGISTER NOW.

Childhood Anxiety and Depression: Practical Strategies for Caregivers and Teachers
This presentation will address the ramifications of anxiety and depression in children and adolescents and will provide easy to use suggestions and treatment options. Presenter: Heather Dyer, Ph.D.
Tuesday, April 5, 2022, 6:30 p.m. - 8:00 p.m. Cost: $10
REGISTER NOW.