Generous Philanthropy Establishes
The Jack C. Shannon Scholarship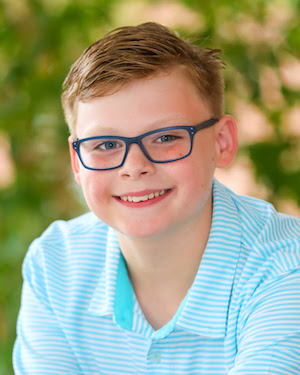 Like so many of Fletcher's students, Jack Shannon is a bright, hard-working, and persistent student who had been struggling to meet his learning potential in a traditional academic environment. His family knew he needed more specialized learning and started looking into other schools. Upon visiting Fletcher, Jack loved his experience and decided he would like to be a Fletcher Falcon.
Jack and his family joined The Fletcher School community in 2017. From the start, he began to make excellent progress, mastering new skills and benefiting from the multisensory instruction, structure, and repetition that are hallmarks of Fletcher's Orton-Gillingham approach to teaching and learning. Jack's former fourth-grade teacher, Connie Short, says, "As a student, new to Fletcher, it was such a pleasure to see Jack's confidence grow throughout the year as he became an integral part of his class." Seeing Jack's academic progress and realizing how happy Jack was, his grandmother, Mrs. Henry E. Haller, Jr. inquired how their family's foundation might provide that same opportunity for Fletcher students with financial need.
In 2018, through their family's foundation, The Henry E. Haller, Jr. Foundation, Jack's family generously donated $250,000 to The Fletcher School to establish The Jack C. Shannon Scholarship. The gift, held in perpetuity in the School's endowment, provides financial support to a student with demonstrated financial need. Recipients must exemplify similar traits to the fund's namesake, Jack, who is characterized by his teachers, family, and peers as compassionate, altruistic, hard-working and persistent —demonstrating qualities of positive citizenship in the classroom and around The Fletcher School campus.
The creation of the award also supports the School's long-term priority to fully fund financial aid through philanthropy. Dr. Brent Betit, Former Head of School, said of the gift and the family's generosity, "Education is the surest doorway to life success. For too many young people, education is a door that is closed and locked. Our Board recognizes how vital access to education is, and has made financial aid one of Fletcher's most important strategic priorities. Through their gift, the Henry E. Haller, Jr. Foundation has opened wide the door to opportunity for present and future generations of youth with learning differences, in perpetuity. Their generosity reflects an abiding commitment to the future, and a powerful statement of positivity and of hope."
The first Jack C. Shannon Scholarship was awarded during the 2019-2020 academic year, allowing a current student to continue their education at Fletcher. In the last few years, Jack's family made additional gifts to further their goal of supporting award recipients through the duration of their Fletcher academic journey and providing access to a joyful and transformational educational experience for students with learning differences.
*******
For additional information on how families may apply for financial aid at The Fletcher School please visit, https://www.thefletcherschool.org/admissions/ or contact Director of Finance and Operations, Ari Hausman. If you are interested in funding financial aid for students and families at The Fletcher School, please contact our Advancement Team at advancement@thefletcherschool.org.