Congratulations to Our Class of 2020
June 15, 2020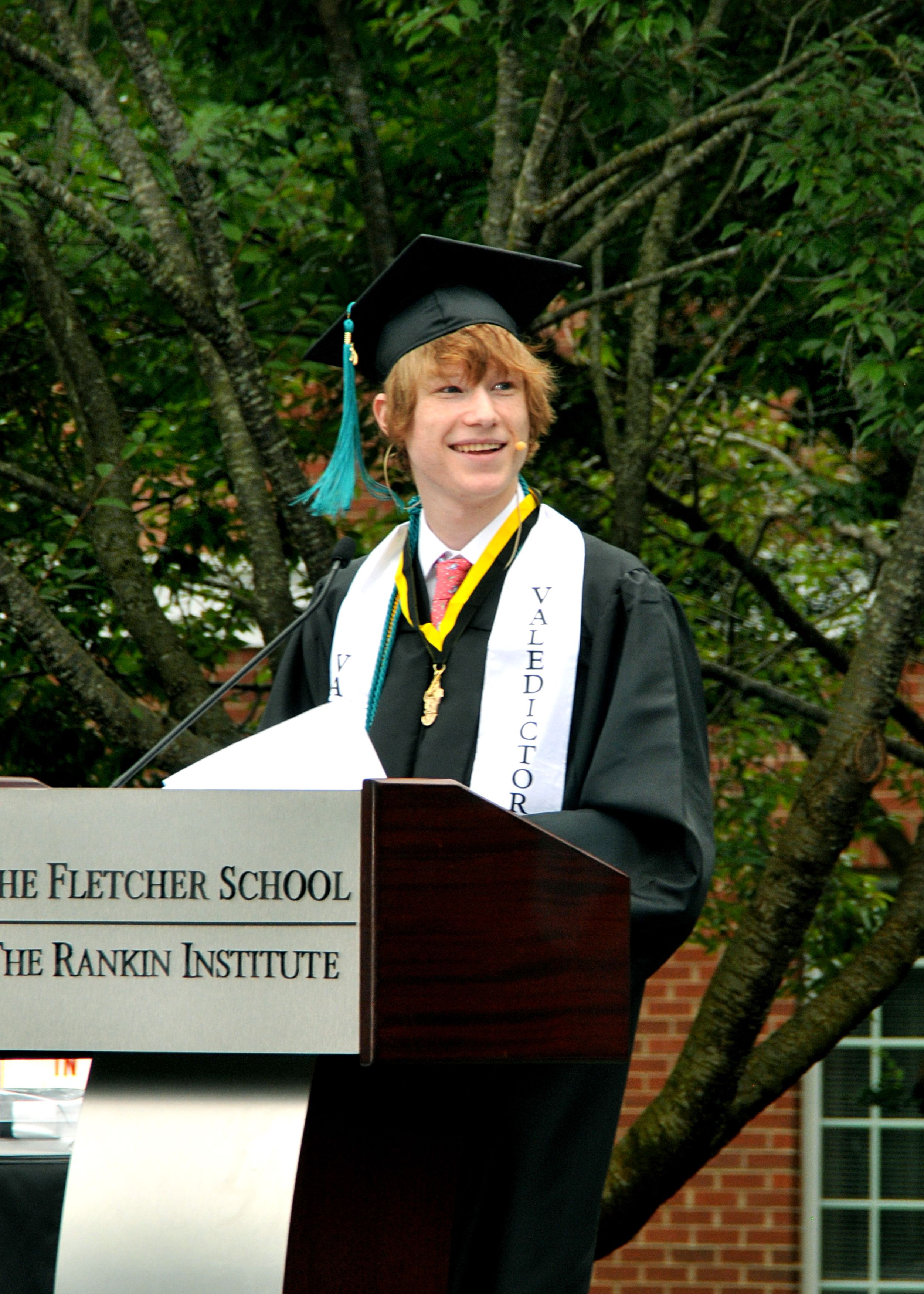 On Friday, May 29, the resiliency of our Class of 2020 shone true as they walked across the stage and received their diplomas at our unique, socially-distanced Commencement Ceremony.
Upper School faculty members and families of graduates celebrated each graduate as they viewed the event from their cars, tuning in via radio, and honking to cheer and congratulate each graduate on their great accomplishment.
Charlie Gale, who is retiring as a faculty member after 9 years at Fletcher, gave an inspiring Commencement Address, speaking to uncertainty and inspiring resiliency in the face of change.
He said to the Class of 2020, "none of us knows how life will change because of this pandemic or how the bizarre life we've all had these last few months will impact our future...But when Covid struck, you learned how to deal with it. And you succeeded. You continued to learn, you continued your education, and you are here today prepared for whatever comes next."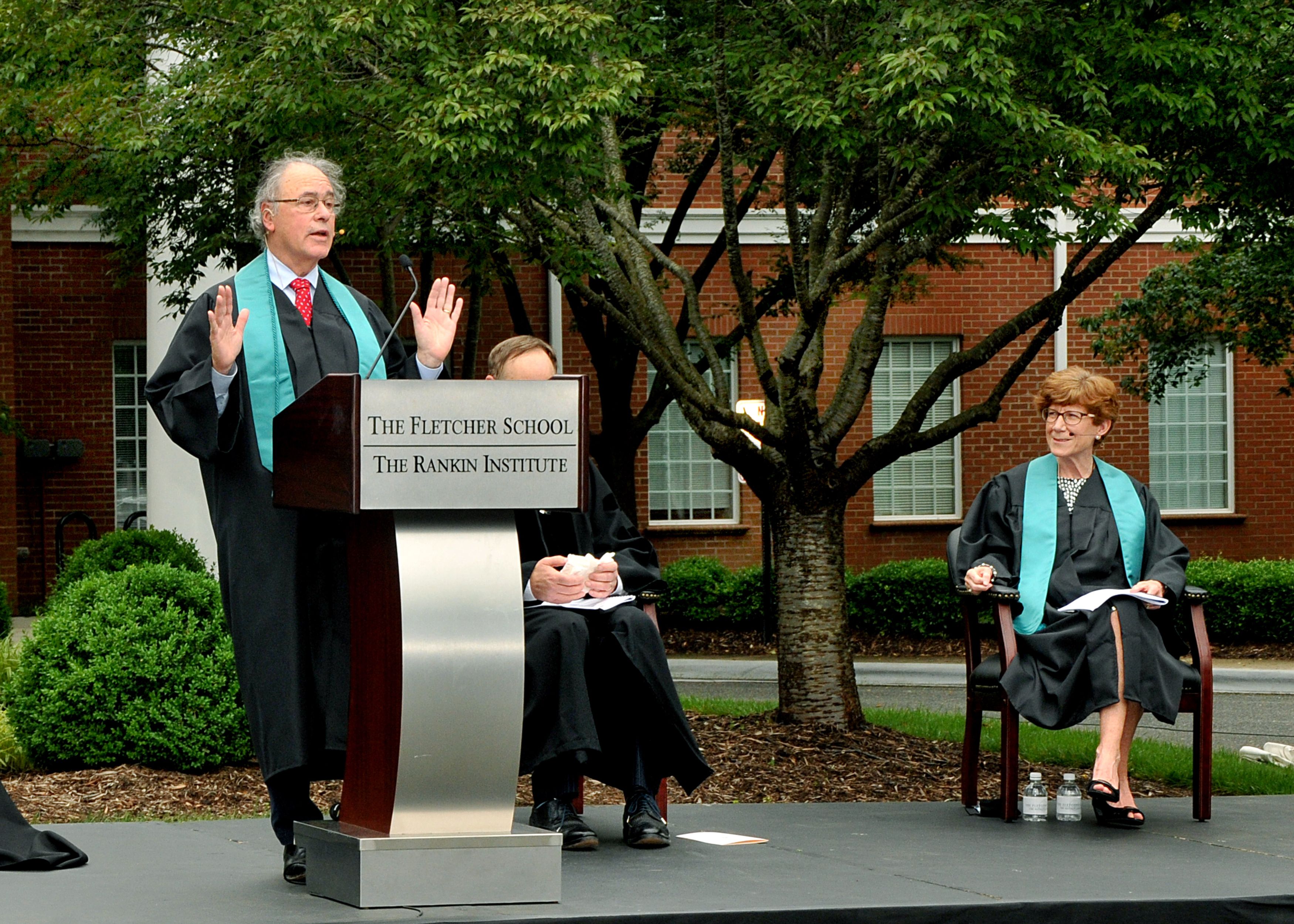 In closing, Mr. Gale shared, "we gave you the tools. The determination and the courage were already yours. And now you are ready to face your unknown futures. Now you're ready to soar."
Our 15 new alumni experienced great success during their time at Fletcher, and we congratulate them on their strong finish to their senior year, despite the unique and difficult situation surrounding COVID-19. Their demonstration of resiliency is an inspiration to us all.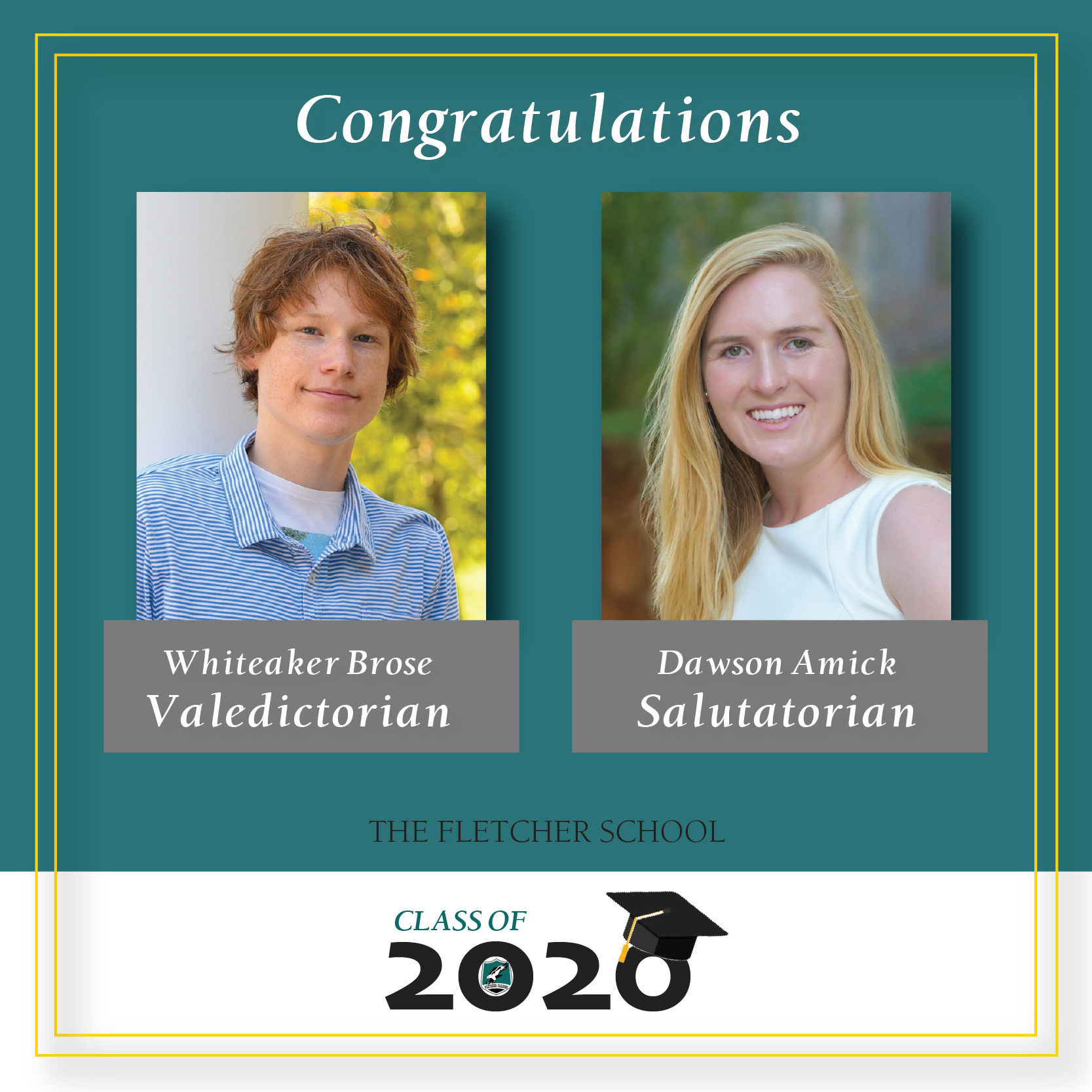 The following awards were presented at Graduation - congratulations!
Valedictorian and Honor Student Award: Whiteaker Brose
Salutatorian: Dawson Amick
Mac Fletcher Award: James Caruso
Teacher's Choice Award: Lily Waters
The Anna Grace Jordan Memorial Award: Anna Peach
Upper School Athlete Of The Year Award: Will Simerville
The Jay S. Hipkins Award: Charlie Gale, Upper School Faculty
View the Graduation Photo Album
Celebrating our seniors in their final weeks of High School:
While our seniors were not able to celebrate their success in the traditional ways, Fletcher's faculty and staff came together to coordinate "20 Days to Celebrate the Class of 2020." Beginning May 10th, Seniors and Upper School faculty engaged in several unique celebrations and surprises. Fletcher faculty and staff:
delivered yard signs recognizing the Class of 2020 Falcons
shared Senior Spotlights of each student via social media
delivered cookies
created special messages using sidewalk chalk at students' homes
coordinated with the Parents' Council and had the Rock painted for a photo session with seniors and their families
delivered ice cream and balloons
organized a surprise drive-by announcement of our Valedictorian and Salutatorian at their homes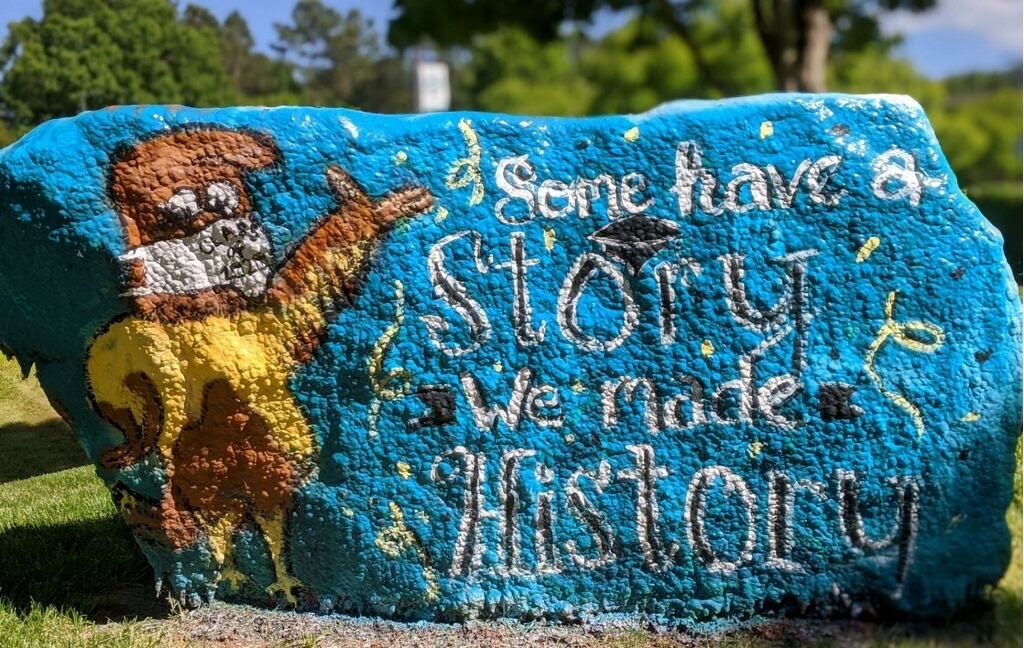 Several other traditional events took place virtually, such as the Senior Breakfast, Senior Luncheon and Slideshow, and Graduation Rehearsal.
Our 15 seniors were accepted into 24 colleges and universities across the country. Collectively, they were awarded $1,307,850 in scholarships and Dawson Amick signed as a Division 1 athlete!
Dawson Amick - Oklahoma State University- Division 1 Equestrian Team Signee
Davis Briers - Embry Riddle University
Whiteaker Brose - Appalachian State University
James Caruso - East Carolina University
Max Dressler - Gap Year
Julie Frespech - Central Piedmont Community College
Jonathan Howard - The University of the South - Sewanee
Chris Knight - High Point University
Hayden Lancaster - Virginia Tech University
Anna Peach - High Point University
Wilson Pegram - Clemson University
Julian Pierce - Lynn University
Will Simerville - High Point University
McHale Trotter - High Point University
Lily Waters - Lynn University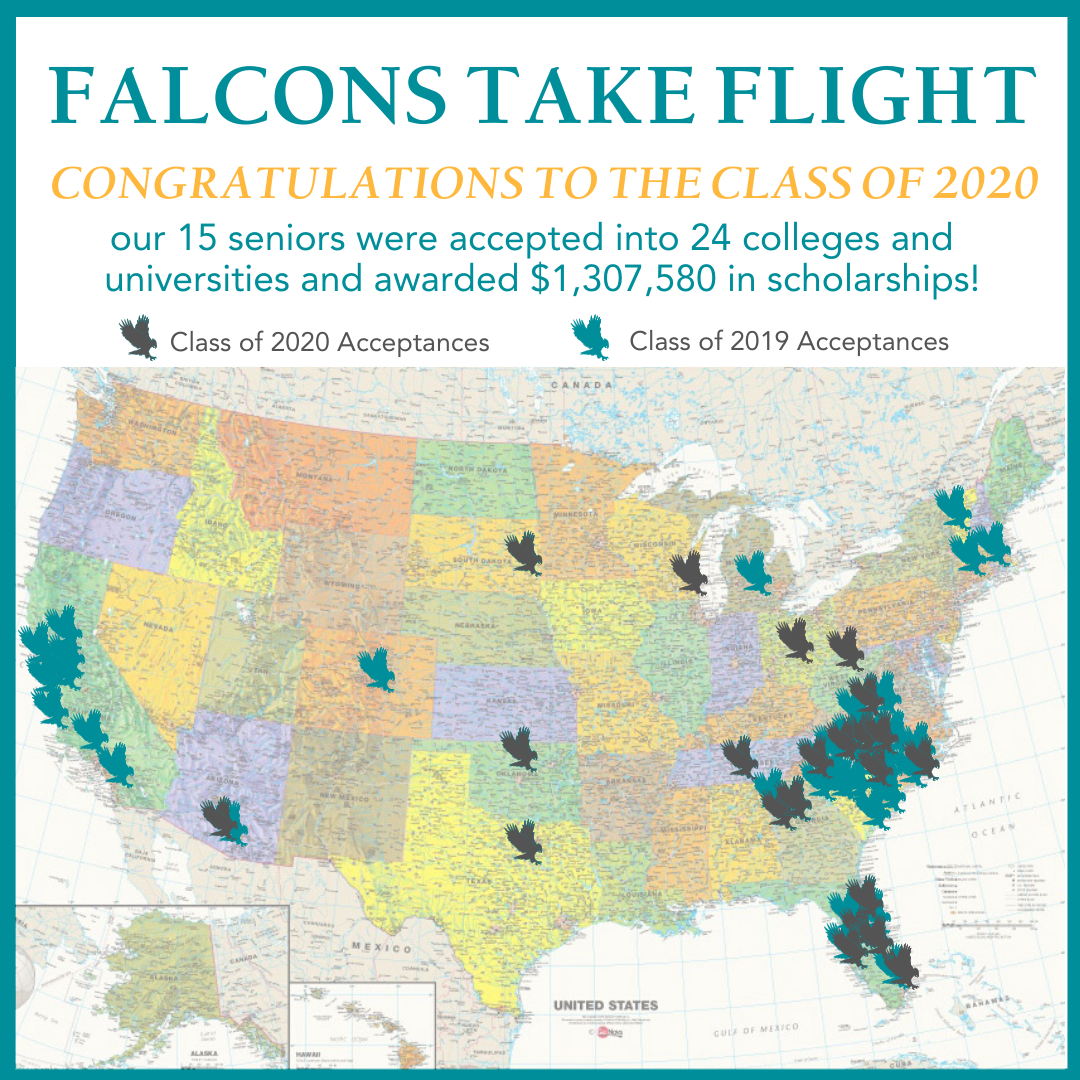 Congratulations, Falcons!