Congratulations, Class of 2023!
June 08, 2023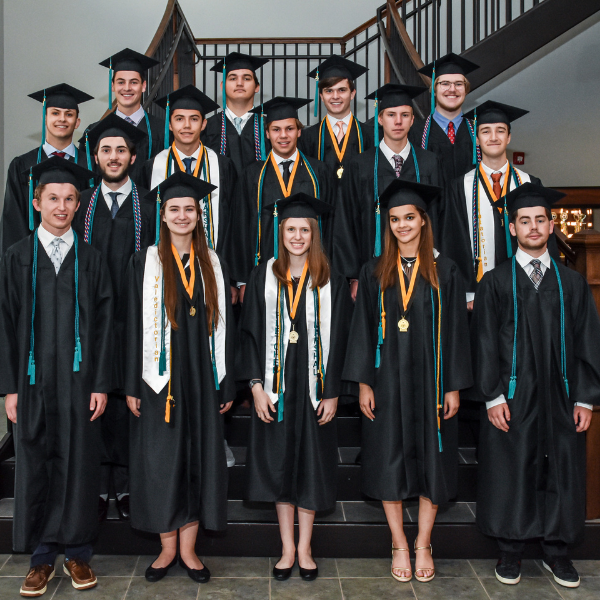 The Fletcher School celebrated the Class of 2023 at Graduation on June 2. And it was a day to remember!
Our Fletcher community congratulates the fifteen members of the senior class who were accepted to forty colleges and universities in eleven states, earning $1.5 million in merit scholarships.
The following graduates received these awards and recognitions: Eliza Ely, Valedictorian; Aiden Terrick, Salutatorian; Dylan Pollack, The Anna Grace Jordan Memorial Award; and Sarah Carpenter, The Mac Fletcher Award. In addition, many graduates wore honor cords and stoles that recognized their varied achievements as Eagle Scouts, Beta Club members, robotics competitors, and honor students. The Class of 2023 was also delighted to present The Jay S. Hipkins Spirit Award to faculty member Mrs. Kathleen Walker.
Mr. Matt Rhule, Head Football Coach at the University of Nebraska, delivered the 2023 commencement address. Mr. Rhule became head coach of the Nebraska Cornhuskers in November 2022, but he has dedicated his twenty-five-year, meaningful career to building programs and developing collegiate and professional athletes. Before taking the helm at Nebraska, he served as head coach for the Carolina Panthers and head coach for the football programs at Baylor University and Temple University.
Students and adults alike were moved by Mr. Rhule's comments, which included, "I know that the key to my success, the key to our success down the line, is the work we do right now. So the lessons I think you guys are probably going to hear about–being confident and having your confidence come from the things you overcome, the lessons I hope that you've learned through The Fletcher School, about day by day, assignment by assignment, year by year, just getting a little bit better, getting to this point–see, no one knows what each of you has overcome. No one knows what all of us in this room have overcome. But we're here. We're here because we've earned the right to be here. We're here because of the decisions we made along the way to get us here. So don't be worried about the future. Just worry about today. Maybe think a little bit about some plan for the future, but then revel in today. Because you will live a life of joy. You'll live a life of peace. You'll live a life of security knowing that success could not be guaranteed, but today's work can be promised."
And the entire audience applauded Head of School Dr. Tara Terry's reminder to the Class of 2023 while they faced their families and moved their tassels from right to left, "Remember that you will always be Fletcher Falcons."