Grade 8 Engages in Unique Community Outreach Project
June 13, 2019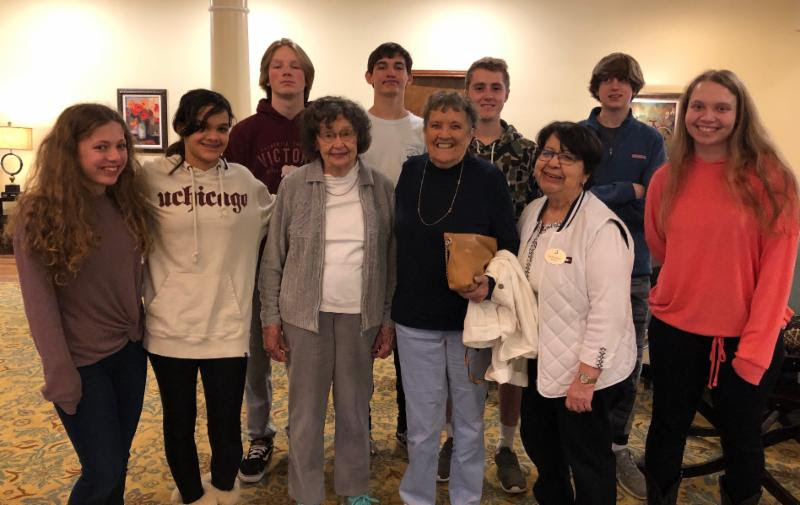 The eighth grade began the year discussing their summer reading novel, Tuesdays with Morrie, an inspiring memoir about a series of visits a young man made to his former sociology professor who is gradually losing his life to ALS. Following these discussions, students and faculty were inspired to continue with the novel's theme of "making connections" by participating in a unique community outreach experience here in Charlotte.
The eighth grade partnered with residents from Brookdale Senior Living Center in Charlotte, NC, with the goal of creating moments that would impact both our students' lives as well as the residents' lives. During many visits throughout the year, student developed unique and impactful friendships with the residents.
This year, the Middle School implemented quarterly, three-week enrichment sessions allowing time and space in the weekly schedule to develop this partnership. During these weeks, the eighth-grade students and teachers visited Brookdale four times. Working both on campus and through visits at Brookdale, students learned social-emotional development, effective communication skills, and empathy through fostering relationships with Brookdale residents.
At their last visit of the school year, each student presented an artifact of memories to their Brookdale buddy. Students creatively represented their newly formed relationships through scrapbooks, videos, posters, and other creative ideas.
The project was enjoyed by faculty and students and did a wonderful job of augmenting the academic and social development of each student.
Students reflections on the project highlight its success:
"It taught us to be more open and took us out of our comfort zone. I think it was a good experience. I had so much fun doing it." -Dylan P.
"Every trip there was incredible and so invaluable. It was a challenge to carry on a conversation; that is a struggle of mine. However, when I could get a good stream going their smiles were a treasured site. My favorite memory is when I stood with Miss Joyce and sang along to her perfect piano playing." -Madeline T.
"Brookdale has impacted me in many ways. I love the feeling of knowing I am making these residents so happy. I love to be able to talk with them and play games such as bingo." -Katherine J.