The Fletcher School Announces New Head of School!
February 03, 2022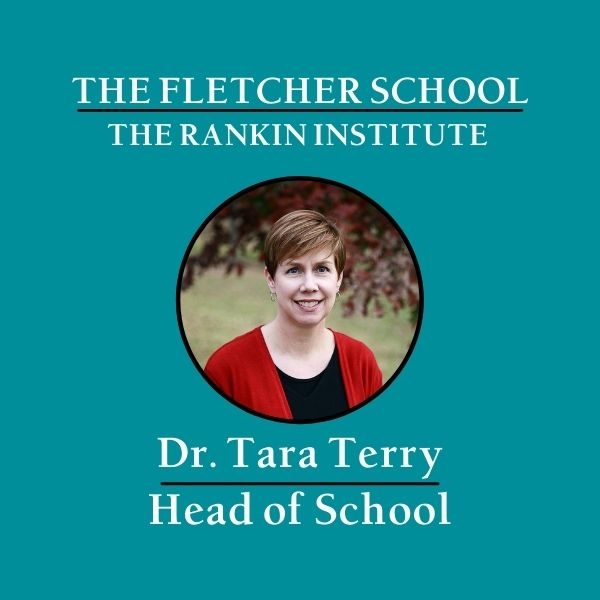 Dear Fletcher School Community,
The Board of Trustees of The Fletcher School is delighted to announce that Dr. Tara Terry has been appointed the fourth head of school, effective July 1.
The Board's unanimous decision to select Dr. Terry followed the enthusiastic and unanimous recommendation of our eight-member search committee, co-chaired by Jamal Dawkins and Lesley Shull, who both are parents of Fletcher School students.
Dr. Terry is currently assistant head of school for academics at The Howard School, an independent K-12 school serving 350 students with language-based learning differences, located in Atlanta. She also served as lower school division head, middle school division head, education coach, and school psychologist at The Howard School.
Dr. Terry previously was a middle school counselor and upper school academic coach at Pace Academy, an independent K-12 school serving 1,000 students, in Atlanta. She also was a school psychologist at Cobb County Public Schools, the second largest public school district in Georgia, serving more than 100,000 students in Marietta.
Dr. Terry earned a BA in psychology from the University of South Carolina, and an MA and Ph.D. in school psychology from the University of Georgia. She also participated in the 2020 – 2021 cohort of the National Association of Independent Schools Fellowship for Aspiring School Heads. She has been a board member of the Georgia chapter of the International Dyslexia Association for many years, and is a nonvoting member of the Board of Trustees of The Howard School.
Those who interviewed Dr. Terry describe her as having a passion for our mission, and the knowledge, experience, decisiveness and confidence to lead a school for students with language-based learning differences. She believes in focusing on communication, transparency, collaboration, professional development, and elevating the work of everyone involved in the education of our students – including their parents, whom she views as our partners in their student's success. She also recognizes the importance of reaching beyond the bounds of the school campus to build relationships and make sure the broader community is aware of the extraordinary work of The Fletcher School and what an incredible asset The Fletcher School is to Charlotte. Over time, she hopes to seek a leadership opportunity in the community.
Dr. Terry is excited and humbled to have been chosen from a diverse pool of 22 candidates to lead The Fletcher School as we begin our fortieth year. She views this opportunity as a perfect match for her, her husband Tom Pittard – a long-time educator with a focus on learning differences, mathematics, and teacher coaching – and their 14-year-old son who is in 8th grade. The whole family is especially happy to be moving to Charlotte because it brings them closer to Dr. Terry's parents, who live in her hometown of Columbia, South Carolina.
The Board of Trustees is extremely pleased with the outcome of this eight-month process, and we want to thank The Education Group, who led the comprehensive national search, and our search committee, comprised of co-chairs and board members Jamal Dawkins and Lesley Shull, and board members Ann Caulkins, William Hadley, Barrett Kollme, Margaret Rainey and Michael Smith, who vetted all of the candidates. They all worked diligently to help us successfully complete the selection of our next head of school, and we are grateful for their tireless efforts.
We also want to thank all faculty, staff, parents, students, donors and alumni who participated in this important process, and our interim head of school, Arch McIntosh, for his invaluable insight and counsel.
As we continue on our journey to take The Fletcher School to the next level, we are optimistic about all the future holds for our school and our exceptional students.
Please join me in celebrating and welcoming Dr. Terry and her family to Charlotte and The Fletcher School when they arrive.
With best wishes and gratitude for your continued support,
John D. Porter, III
Chair, Board of Trustees