Seniors Learn Job and Life Skills Through Senior Shadowing Project
April 08, 2020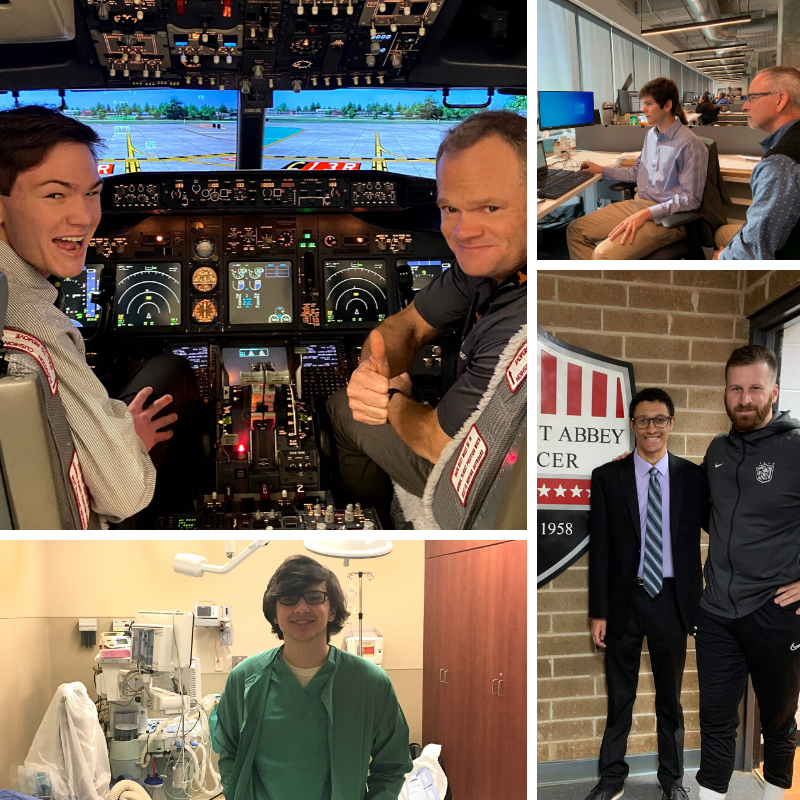 For an entire week this past January, our seniors spent their days shadowing a professional in a field of their interest. This is just one component of a challenging yet awakening Senior Shadowing project that seniors began preparing for in the fall of 2019.
In September 2019, the Class of 2020 Seniors participated in a number of inventories including learning styles, temperament, Enneagram, Multiple Intelligences, and a career survey. They researched possible career choices which culminated in a presentation called "Me: Now & Later."
Throughout the fall semester, Senior Seminar teacher Danielle Riviere teamed up with administrators and faculty to find professionals who would be willing and able to host a student for a week. By December, most of the mentors were in place.
Mentors then began visiting their mentee's Senior Seminar class. In addition to discussing their career, the discussion also focused on Universal Career Themes such as: professionalism, taking chances, forming lasting relationships, adaptability, and flexibility. The mentors also shared what 21st Century Skills (soft skills) they thought were most important and why, many chose communication. The students took notes and reflected on three of the themes, making specific references to details the mentors had shared.
Leading up to their Shadow Week, the seniors conducted background research on their mentor and business. They emailed their mentors, asking for a schedule and to think about a "product" they could put together during their week. They emailed their parents sharing full details of their week.
During Shadow Week in January 2020, students worked off campus at their Mentor's place of work between 20-40 hours. They maintained a journal of thoughts, pictures and videos to capture observations and application of 21st Century Skills and Universal Career Themes. They also worked on their "product". Some project examples included:
A 3d model of a house
A therapeutic plan for a disabled rider
A lesson plan for preschoolers
A flight plan
An inventory record sheet
A balance sheet
An article about bee care in the winter
A PSA announcement
Completed documents for a car purchase
An ACDC conductor
A plant and workflow analysis
Throughout the week, the mentee also practiced interviewing with their mentor. Students then created websites to showcase their week. To conclude the project, each student had to "pitch" themselves as if they were being considered for a summer job or internship after their freshman year of college. Their classmates served as an interview committee, specifically interviewing the students on what they had learned through their shadowing project.
Through this project, our Class of 2020 gained skills and knowledge in their field of interest, as well the tools and confidence needed to step into their career and life journey following graduation. This is just one example, of many, that prepare our Falcons to SOAR!
Senior Shadowing: List of Students and Mentors
(If you're interested in sponsoring a future Senior Shadowing Project email Danielle Riviere.)
Julie Frespech - Lindsey Curcio, Curcio Law Group
Anna Peach - Justin Bates, Assistant Athletic Director, Belmont Abbey College
Julian Pierce - Jaime Mallilong, Assistant Coach, Women's Soccer, Belmont Abbey College
Lily Waters - Kim Lee, Teacher, St Stephens UMC Preschool,
Dawson Amick - Joy Simon, Program Director/Head Instructor, Misty Meadows Mitey Riders
Jonathan Howard - Dr. Jim Hamilton, Watauga County Extension Director
Hayden Lancaster - David Piantino, M.S. DABR, Chief Medical Physicist, Levine Cancer Institute
Will Simerville - Brian Dixon, General Manager, Tim Marburger Honda
McHale Trotter - Ken Edwards, Architect, Little Diversified Architectural Consulting
Davis Briers - Mentor 1: Cheryl Hadley, Pilot, United Airlines; Mentor 2: Collin Clark, Pilot Southwest Airlines
Whiteaker Brose - James Liu, Developer, SSI Schaefer
James Caruso - Iain Jenkins, President, Jenkins Electric
Max Dressler - Ashley Heafy, Senior Coordinator of Consumer Engagement, Hornets Sports & Entertainment
Wilson Pegram - Mike McNamara, Partner, Greer Walker