Watercarrier Awards Established and Inaugural Recipients Named
September 05, 2021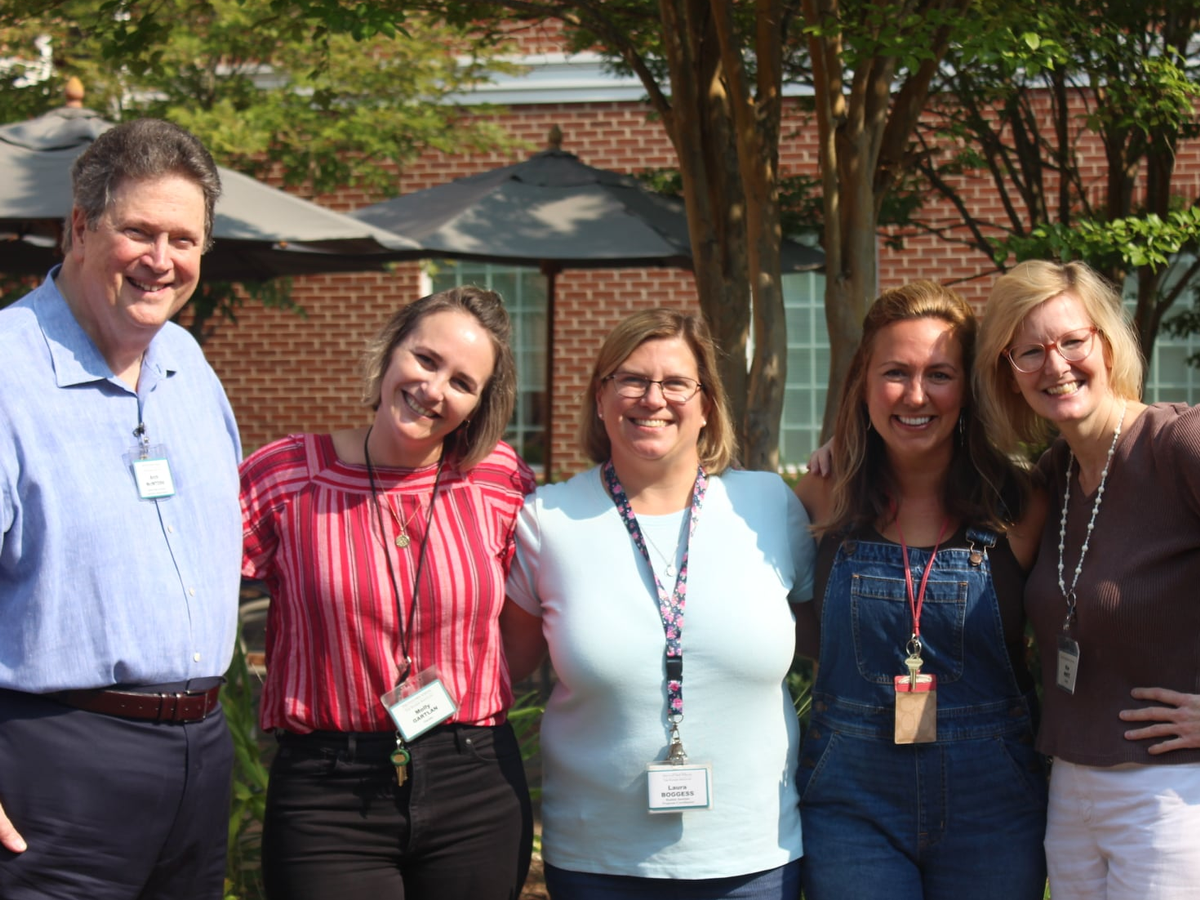 In August of 2021, Arch McIntosh, interim Head of School, and the Leadership Team at The Fletcher School established the Wattercarrier Awards. The Watercarrier at The Fletcher School is a symbol of the essential nature of all jobs, our interdependence, the identity of ownership and participation, the servanthood of leadership, the authenticity of each individual.
Background:
In the life of an American Indian tribe, the watercarrier held one of the most important and respected positions. Water, like food and air, is essential for survival.
Corporations, hospitals, and schools can become sustaining institutions like tribes. They can be the source of belonging; they can be the locus for achievement; they can be a real work-support system. The best institutions have already become these things. The watercarriers of an institution communicate and exemplify the ties that bind the institution together.
Watercarriers help determine and then perpetuate the quality of an institution's goals. They bring unity of the tribe to schools, like Fletcher, the confident and relaxed unity of a group of people dedicated to a common goal and bound together by a covenant. The covenant expresses the beliefs held in common, the values shared, the goals and ideas and ideals to which everyone has made a common commitment.
Watercarriers thrive in diversity and understand the fragility of organizations. People, relationships, values, and beliefs are most important to a school and, fittingly, the most fragile components.
Watercarriers comprehend and preserve them. Source: Leadership Jazz, Max DePree
Description:
Any faculty or staff member at The Fletcher School can be nominated by any other employee for a Watercarrier Award as long as they are full-time employees with a minimum of three years of employment with the School. (On occasion a senior administrator may be chosen for a Watercarrier Award, but this should be done rarely; recognition is primarily to be directed to teachers and support staff members.)
Citations of our 2021 Inaugural Recipients:
Laura Boggess: 2021 Recipient
"Laura has been described as responsible, tactful, joyful, fun-filled, spirited, honest, hard-working, resilient, flexible, dependable, and a problem-solver. To hear her laughter in the hallways reminds us all not to take ourselves too seriously and to find joy in the day-to-day. Many recognize her impish smile when she is ready to share some funny picture or quote.
She has an enormous, yet quiet, impact in her role with her "can do" spirit and calm nature. This Administrative Staff person's multifaceted responsibilities keep her quite busy, and yet she takes on new assignments with gusto stepping in wherever she is needed. And she has been needed in a wide variety of ways: taking morning temperature checks, troubleshooting the copier, frequently filling in as a substitute teacher, making event table decorations, and filling in at the front desk. It's a wonder if we could operate a school day without her assistance.
Throughout her 14 years at Fletcher, this Rankin Institute Program Coordinator, has been an important resource for us all. It is my pleasure to recognize Laura Hutchison Boggess as a Watercarrier for the Administrative Staff."
Kim Hintz: 2021 Recipient
"This Lower School Teacher has been described as a "Fletcher rock." She believes in the school, the community, and most importantly, the students. There is no doubt she displays an unshakable commitment to her co-workers and the entire Fletcher School Community.
She has many special talents including compassion for others, loyalty to colleagues, and an unyielding sense of dedication for student success. To ensure parent communication is consistent and accurate, she carefully proofs every progress report each trimester. She goes beyond thinking about her own classroom by supporting her grade level team.
This Lower School teacher values Fletcher's traditions. At the end of last year, COVID protocols threatened to prevent the long-standing 5th grade "moving up" tradition when students run across the upstairs landing to enter the Middle School as rising 6th graders. This teacher helped resolve COVID concerns by helping to adjust this event and preserve an important student experience.
This 5th grade Math Teacher and Level Coordinator is a valuable Fletcher Falcon who has soared for the benefit of those around her for 24 years at The Fletcher School. It is my pleasure to recognize Kim Hintz as a Watercarrier of the Lower School."
Anna Travieso: 2021 Recipient
"Since day one this faculty member has brought happiness, encouragement, and passion to the classroom and our community. She has a genuine concern for others whether they are a student, a teacher, or an administrator. She cares about everyone and puts their needs before her own. If you need a shoulder to lean on or a supporting hand, she will be there for you.
This teacher's work ethic goes beyond what is expected of her. So often she is found working with students before school, after school, or during Middle School Team Time. She always goes that extra mile for her students. This teacher has high personal standards and she nurtures her students to have high expectations for themselves. She is a teacher who sees the best in all of the students. Students know they can be successful in her classroom.
She isn't just someone who has a positive attitude; she is someone who looks and finds the good in every situation. In her five years working at Fletcher, this teacher represents the values and ideals of our School.
It is my pleasure to recognize Anna Travieso, 7th Grade Reading Comprehension Teacher, with the Middle School Watercarrier Award."
Molly Gartlan: 2021 Recipient
"This Upper School teacher is a cherished and valued member of the Fletcher community. She is a caring, passionate teacher who believes in the students, the teachers, and the school. She is a consummate team player in both the classroom and the school. Throughout her years at Fletcher, she has been someone who sets the standard for hard work. She is known for her positive attitude and never giving up. She brings all of these attributes to her classrooms and she also demonstrates them in her life. She inspires those around her.
This faculty member is someone who can always be found working tirelessly in her classroom unless she is roaming the hallways- lifting the spirits of all those around. No matter the situation, she brings a zest of positivity and encouragement which contributes to her being an outstanding educator. Every day she carries the ideals and values of the Fletcher School with pride on her shoulders. For 14 years, she has been dedicated to motivating all students to be successful.
It is my pleasure to recognize Molly Gartlan, Upper School Science Teacher and Upper School Coordinator, as a Watercarrier for the Upper School."
Watercarrier Awards will be awarded on a regular basis throughout the year at The Fletcher School
Congratulations to our 2021 Watercarrier Award Recipients!